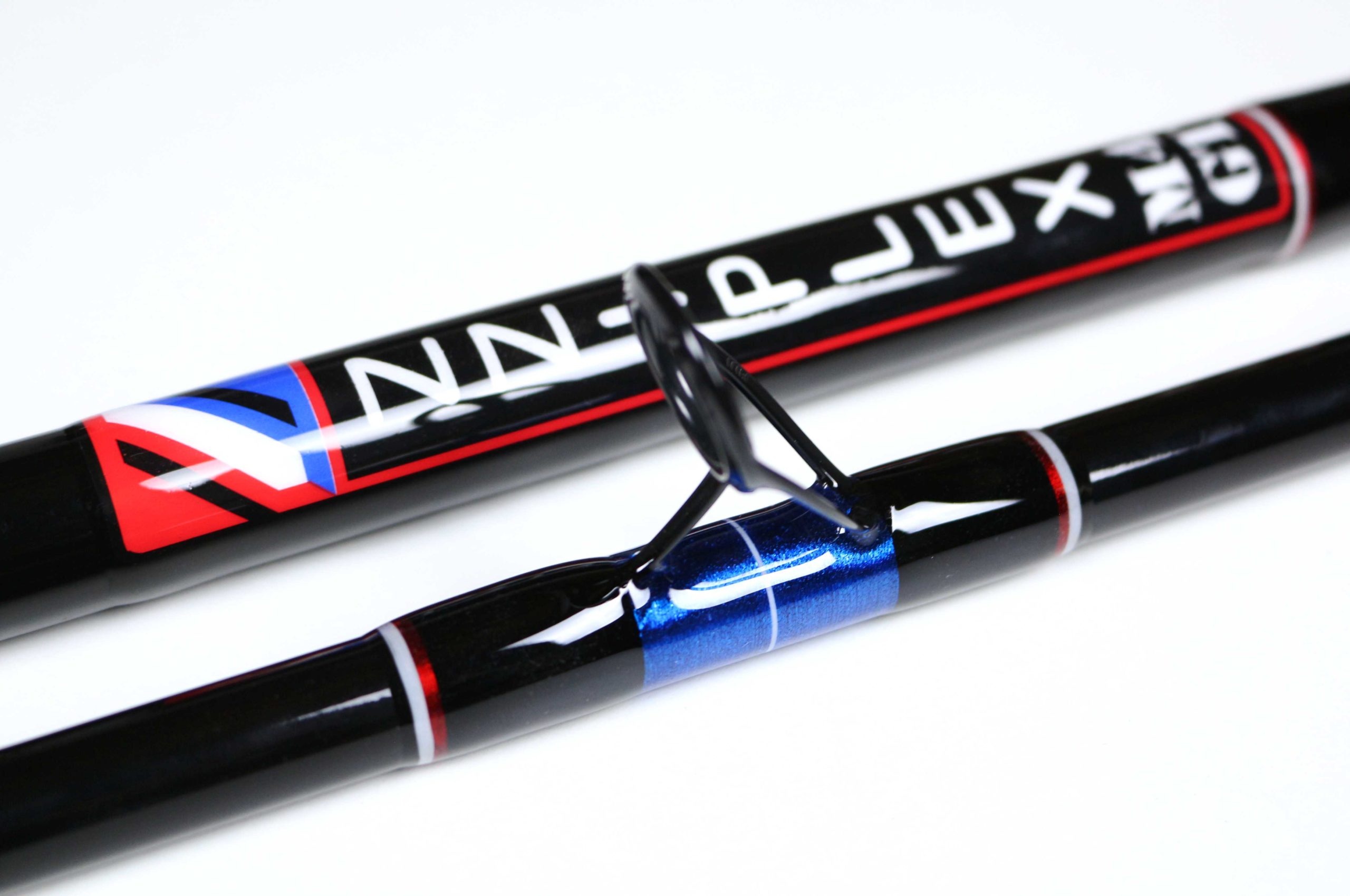 Customise Your Zziplex
So you have taking the plunge to purchase a new Zziplex rod.
Why not get it fully customised to make it absolutely perfect.
You can change colours, guides, reel seats and shrink tube just to name a few.
Century Eliminator T900-SGT 14ft 4″ Rated at 6oz, and is 14ft 4" in length, also in two equal sections, These rods are beasts designed for mixed to rough ground, where weed and rocky snags are a factor. In testing they have fought and tamed halibut, big cod and double figure rays. In the right hands,…
Shakespeare Ugly Stik Elite Boat 20-30lb Set to be a hit for the anglers targeting large tope, rays & congers, but not to stiff to take all the fun out of it. The new and long awaited Ugly stik Elite Boat rods places themselves above the extremely popular GX2 Ugly Stik rods. The perfectly balanced…
Zziplex Evolution CT 13ft 4″ Built By Roger Nowell The Evolution CT is one of the latest ranges of rods from Zziplex. It is designed as a clean to mixed ground rod with a fast carbon tip which makes it ideal for distance fishing or targeting Hounds and Rays during the summer months. It will…
Daiwa Tournament Boat 8ft 6″ 5-10oz . The New Tournament Uptide rods from Daiwa are set to be a great seller in 2018. The rod is built using their fantastic X45 carbon construction making it lightweight and very responsive both models provide pure strength in the palm of your hands. Available in two models a…
Shakespeare Agility 2 Expedition Bass 11ft This travel rod will prove very popular with the modern Sea Fisherman .The strength of these multi piece rods is exceptional and the action of the rod has not been adversly affeted by the addition of the extra spigots . The reduced transport length not only  makes them perfect for the…
Sea Fishing Rods
We offer the best range of sea fishing rods available from suppliers such as Zziplex, Shimano, Conoflex and Jarvis Walker - infact we stock sea fishing rods from dozens of world renowned manufacturers who utilise advanced materials to give you the best fishing rods whether you're after Bass, Flounder or huge Cod!
You'll find a massive selection of rods for all types of sea fishing in our store - whether it's boat, rocky shore fishing or beach we have the perfect sea fishing rod for you, all backed by the knowledge and experience of Gerry's Fishing.
Bass Rods
We have a fabulous collection of specialist Bass Rods from a range of suppliers, all specially designed to let you cast further, feel bites easier and bring home the bass.
Our range of specialist Bass rods include beach rods and lure rods to allow you to target this wily species on both sandy beaches and off the rocks - we offer you the perfect weapon to give you the best chance of success when bass fishing!
Beach Rods
Our range of Beach Rods offers all the casting potential you need at a price you won't believe - we offer beach casting rods from all the best makes in the business including Penn, Zziplex and Century which have been designed to give you extra yards every time you cast, utilising advanced materials and construction to give you more casting power with less effort.
Boat Rods
If you're a boat fishing fan then we have some great deals for you in our boat fishing rods section - we have everything from sturdy two piece rods to tackle the biggest of the heavy hitters like Skate, Shark and Conger to light boat rods for flounder and whiting fishing.
Our selection of boat fishing rods includes two piece right upto 4 piece travel rods, giving you the ultimate flexibility and the ability to take your fishing tackle wherever you go, which means whilst others are sunning on the beach you can be out catching fish!
Estuary and Flattie Rods
For those of you who love fishing estuaries for eels and mullet as well as flounder, plaice, dabs and other flat fish, we stock a specialist range fo the estuary fisherman and the flattie fisherman. Our range of estuary rods are ultra light, have the best bite feel and allow you to get right to where the fish are feeding time and again.
Our range of flattie rods are specially designed to allow the softest of bites to be detected and allow you to present bait to flatties easily wherever they are feeding. Utilising advanced materials and guides, you will cast further and find the fish easier with this range of rods.
Lure Fishing Rods
We stock a large range of lure fishing rods which allow you to target species such as bass, mackerel and pollack with ease - these rods have been designed to cast lures further, meaning that you catch more because your lure stays in the water longer.
Our selection of lure fishing rods from manufacturers such as Abu , Anyfish and Daiwa offer portability, strength and the ability to land large fish easily.
We offer a large range of travel spinning rods in our shop, which means you can pack your rod wherever you travel and be fishing in no time!
Uptide Rods
Our specialist range of uptide rods allow you to cast easily from a boat and anchor uptide of the anchor chain - this technique has brought many a big fish to the boat in recent years and you should really think about adding this type of rod to your arsenal!